Chocolate Day Quotes That Will Spread Sweetness Everywhere
Valentine's Chocolate Day is celebrated on 9th February every year. We're in the middle of Valentine's Week and today is the day that brings all the sweetness and sugariness in one's relation.
It's the chocolate day – A perfect day for all chocolate lovers! Chocolates are of the few things that don't come with gender restrictions. Boys are as much fascinated about chocolates as much as ladies are. 
To have a perfect relation its always suggested that whenever you meet your loved ones, surprise them with chocolate. Because chocolates are something that has the ability to elevate one's mood any day.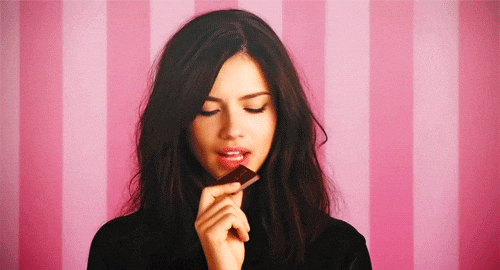 Before we stuff you with quotes and messages on chocolates here are some benefits of chocolates:
Prevents Diabetes:

 
Flavonoids present in dark chocolates help to reduce the risks of diabetes. 
Helps in reducing stress:

 
Next time you have a chocolate, close your eyes and eat it slowly and you will notice that there is some sense of relaxation while you chew the sweetness. In fact, dark chocolates have stress-relieving properties. 
Some studies have found that eating chocolates can improve cognitive ability and brain function. 
Chocolates maintain blood flow. They keep the skin hydrated and provide a shine to your skin. 
Consuming a small proportion of dark chocolate will help you in your weight loss plan. It also stabilizes your blood sugar level, controls your appetite and reduces cravings. 
Dark chocolate is loaded with organic compounds that are biologically active and function as antioxidants. Polyphenols, flavonols and catechins are to name a few.
Cocoa and dark chocolates have a wide variety of powerful antioxidants.
Helps in reducing heart disease risk:
In a study of 470 elderly men, cocoa was found to reduce the risk of death from heart disease by 50% over a 15-year period. 
Eating chocolate 2 (or more) times every week lowered the risk of having calcified plaque in arteries by 32%. 
Amazing isn't it? We hope now you have all the reasons to give your loved one's chocolate! But gifting "just a chocolate" is another cliché! 
Chocolate Day Gifting Ideas to Make the day worth remembering:
Boquete never goes out of style. But if the bouquets are made from chocolates, it's worth capturing in memory and stays forever. 
If you know favorite chocolates of your loved ones, make a bouquet out of it or else try and have different-different chocolates in one single bouquet and see how broad they smile when you present them this.
Don't worry if you are low on budget. Even if you are gifting single chocolate, don't forget to leave a note with it. 
"If chocolate is the reason behind sweetness in the mouth, words should be the reason behind that sweet smile."
This never goes out of style. Just visit a nearby candy store and get a variety of chocolates. Then get a jar and make different layers of chocolates you've just purchased. 
You can also make the jar look beautiful. It's just one of those DIYs you've got to try this valentine's week. 
A basket full of chocolates:
While some baskets come readymade, you can also make one of your own. If you know his/her favorite chocolate don't forget to stuff in that chocolate as much as possible. 
One sweet thing about a basket full of chocolates is that, even after chocolates are finished, the basket is still there to store all the memorable things. 
That's something you should definitely try! Chocolates and wines make some crazy memories together. 
Take her/him out on a date and when you're done having meals, grab a bottle of wine when you're on your way home. As soon as both of you get comfortable to watch your favorite movie, surprise your loved ones with a chocolate (or a bunch of them) and feast on wine and chocolate while you make memories watching your favorite movie. 
Chocolate Day Quotes Messages 
As I've said, distance doesn't matter when 2 hearts are connected! Don't worry if the 2 of you are separated by distance. 
You guys can still make your day special by sending messages, texts, and gifs from time to time (or every hour) to make him/her feel special. 
Here are some messages that you definitely want to send to your loved ones:
"For A Dairy Milk Person,
from A Five Star Friend,
For A Melody Reason,
And A Kitkat Time,
On A Munch Day,
In A Perk Mood To Say,
Happy Chocolate Day"
"Today Day Is Chocolate Day
Dairymilk For Love
KitKat For Special
Bounty for Cool
Mars for Best Friend.
Lindt 4 Cute Hug
Galaxy 4 Sweet Kiss"
What Will You Give Me?
"A Day Without Chocolate Is A Day Without Sunshine.
Life Without Chocolate Is Like A Beach Without Water.
Same Thing Like The Chocolates, My Life Would Suck Without You"
"Mithaas Bhari Hui Har Aur Hai,
Lage Hai Jaise Khoobsurat Shama Pur-Zor Hai,
Dhoonda Toh Paya Aapki Hai Ye Mithaas
Jo Aaj Ke Din Ek Chocolate Ki Tarah…
Meethi Aur Chaayi Harr Aor Hai…
Chocolate Ka Meetha Din Mubarak Ho"
"Dil Humara Chocolate Ki Tarah Najuk
Tum Usme Dry Fruits Ka Tadka
Life Hogi Fruit And Nut Jaisi
Agar Mill Jaye Girlfriend Tere Jaisi"
"Today is chocolate day, Dairy milk 4 love, Perk for friends, Kit Kat for best friends, Polo for hatred, And Mentos for cool persons, what do you choose 4 me Best Wishes on Happy Chocolate Day."
"Pyaar ka tyohar hai aaya, Sang apne khushiyan hai laaya.
Aao milkar manaye isey, Koi bhi rang na rahe feeka,
Par sabse pehle karlo kuch muh meetha.
Happy Chocolate Day"
"Life Hogi Fruit And Nut Jaisi
Agar Mill Jaye Girlfriend Tere Jaisi
Happy Chocolate Day"
"Love is like chewing gum,
It tastes only in the beginning!
But friendship is like chocolate,
It tastes till it ends!"
Happy Chocolate Day!
"Lovely chocolate n Lovely u,
And Lovely are the things you do,
but the loveliest is the friendship of the two,
one is me and the other is You! Happy Chocolate Day!"
"I Searched Many Shops to Buy the Best Chocolate for you. But I Didn't Find Any Chocolate Sweeter Than you and your Smile."
"My dear,
You are so soft like dairy milk,
You are so silky like Cadbury milk,
You are so lovely like my sweetheart."
Happy Chocolate Day!
"Hey, It's Chocolate Day and I'm sending you a wish dipped in chocolate and sprinkled with love. May you always be smiling." Happy Chocolate Day!
Final Words:-
On this special day, love birds and friends are often seen around exchanging chocolates with one another and spreading sweetness everywhere. This day becomes even more special when you see a sweet smile with a bar of chocolate in the hand of your lover, and how it slowly melts and spread love all around.
So share out the most exciting Chocolate Day Quotes Images with your loved ones.
Additional Reading:-